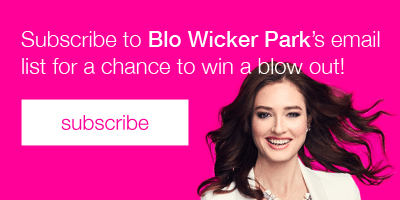 Chicago, Blo Blow Dry Bar has 2 more locations coming your way! Next stop, Wicker Park.
Want a blow out, like, now? Book your service at Blo Southport!
Lush white chairs, sleek stainless steel and pops of pink, welcome to the world of Blo! Walk-in or book your blow out online, and our expertly trained Bloers (aka stylists) will transform your tresses right before your eyes.
At Blo, you won't find cuts or color — our team here does one thing, and we do it very well.  You can be sure that our bloers will deliver runway ready locks in no time!
For more information contact us or subscribe to the blo down, we'll let you know when we're ready to blo!

Owned + operated by, Franchise Partner: Tanya (Princess of Primp) is the first to bring Blo to Chicago! This licensed attorney has been married for 20 years to her college sweetheart. What's even more ah-mane-zing is she's also had three children in one year – including twin girls – while always staying on her tress behavior. She's lived on both coasts in 5 different states, but is a Midwest girl in her blo-pink heart. Tanya also owns Blo St. Louis and will be bringing a total of 3 locations to Chicago very soon! Primpin' ain't easy, but it's Tanya's exper-tease.