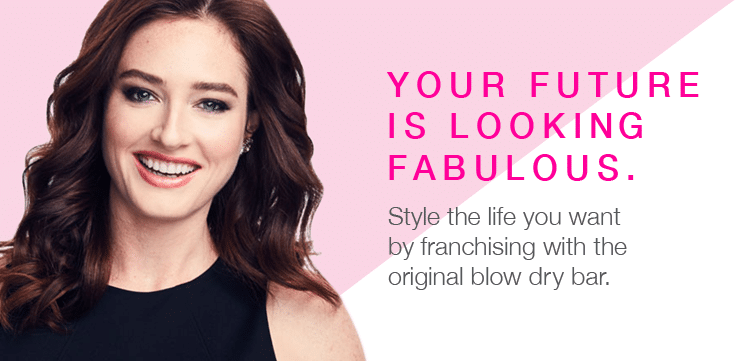 2020 is your year – we can feel it! If you've ever dreamed of being your own boss and owning a business, make this year count! Imagine the possibilities of starting your own beauty franchise and inspiring women to feel their best every day? Well, now you can! Blo Blow Dry Bar is looking for fierce entrepreneurs to become part of our blow dry bar franchising team.
If you're ready to start this next decade off with a bang, keep reading!
Since our start, Blo has grown to over 130 franchise locations. We are North America's original blow dry bar, and we have no plans to slow down! We have locations all across North America, making Blo the world's largest blow dry bar franchise. Our mission is to expand our Blo Blow Dry Bar franchise worldwide and make every person who walks into our bar feel beautiful!
We opened 22 new locations in 2019 – one of our biggest years. Take a look.
Etobicoke, ON
East 81st, NY
Foundry Row, MD
West Orange, NJ
East Cobb, GA
Murray Hill, NY
Toronto-Leaside, ON
Wicker Park, IL
Denver, CO
Franklin Lakes, NJ
Bettendorf, IA
Lexington, KY
Milton, ON
Toronto – Union, ON
Memorial City, TX
Cool Springs, TN
Rocklin, CA
Financial District, NY
Greenville, SC
Coral Springs, CA
Vernon Hills, IL
Toronto – Danforth, ON
Our franchise site has everything you want to know about owning your own Blo Franchise. We've answered some very important questions about what it takes to be a Blo franchise owner, including:
1.) Is hair experience needed?
No hair experience? No worries. It is definitely not a requirement for becoming a part of the Blo Blow Dry Bar family. Our Franchise Partners come from all different backgrounds and we love the diversity it brings to the brand.
2.) Do I need business experience?
First-time business owners and seasoned entrepreneurs are both welcome to become a franchise partner. Blo Corporate provides support every step of the way, including training before and long after your doors open.
3.) How much does it cost to open a Blo?
Blo Blow Dry Bar is a low-cost franchise opportunity and we can provide guidance if you wish to apply for a small business administration loan. For an approximate range of investment, click here.
4) Where can I open a Blo?
We have a broad availability across the US and Canada, including in markets where we are already located. Thinking of an International location? Let us know what you have in mind. Or check out this page for some more info.
5) Do you provide training?
Yes! The Blo corporate team wants nothing more than to see you succeed. Our Franchise Partners are what hold the Blo brand together and keep it looking its best, day in and day out. From the minute you sign the franchise contract, we will be there to guide and assist you. Our comprehensive training and coaching programs cover the entire spectrum of your business.
Our mission is to expand the Blo franchise (and blow outs!) worldwide and paint every town pink! If you're interested in achieving your entrepreneurial dreams, becoming a beauty franchise owner, and slaying the blow dry industry then let's talk!
We look forward to partnering with you this year!
xo, Blo