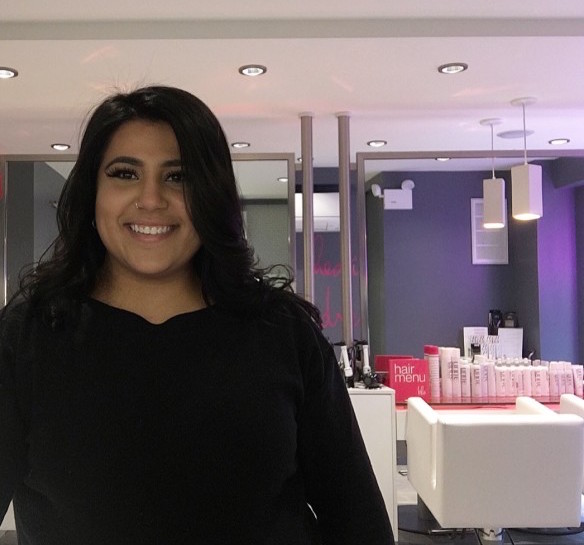 Name: Ashley Agugliaro
Title: Corporate Style Director/Chief Style Boss
Blo Location: Blo East 49th
Instagram Handle: @hairbyashxo
Started working at Blo: November 2013
---
 "Ashley is truly a force to be reckoned with!!
We began our journey at Blo together and she immediately showcased her talents, acquiring the junior style boss position by the end of our very first Blo U!
From day one, it was clear to me that she had the drive, dedication and ability to grow and become an important part of the team.
Her genuine passion and dedication for what she does everyday makes her unstoppable.  She fast tracked;  earning the Chief Style Boss position in a short period of time including the recognition from Corporate, as their newest Corporate Style Director!
Over the past 4 years, she has become a respected leader and shows me every single day that there is nothing she wouldn't do to make our business soar.  She has been a partner to me and has stood next to me through all of our challenges and successes.
She gives me peace of mind knowing that I can rely on her to ensure that all three of our locations are creating "catwalk-quality hair"!!  She is the backbone to all that we do and continues to prove herself every single day.
She is one of a kind and I couldn't ask for a better partner.  I am so proud of her accomplishments and look forward to helping her achieve the career of her dreams at Blo!" – Jean Chriss Camilletti, Franchise Partner: Blo East 49th, Blo Glen Cove Road, Blo West Hartford 
---
My favorite Blo signature style is…
Red Carpet! It's the perfect style to take on any day!
The best part of working at Blo Blow Dry Bar is…
My Blo Family and how much room there is for growth!
What I love most about working in the beauty industry is…
Turning the chair around and seeing the smile on your Guest's face! If you have beautiful hair, you can conquer anything that comes your way.
The best professional lesson I've learned so far is…
Never stop learning! The beauty industry is always changing and you need to stay up to date on the latest trends.
The most important thing I've learned about working with clients is…
They come in to see us so we can make them feel good. Make sure their stay is enjoyable and relaxing!!
I get my passion for hair/beauty from…
Making people happy. I've always wanted to be in an industry that would make a difference in someone's day-to-day life, and I found it!!
My mantra/favorite quote is…
"Fake it till ya make it!" Hairdresser's quote to live by! EXUDE confidence, it shows immediately!
I am inspired by…
My Dad. He's such a hard worker and always instilled that in me!
The next place on my travel bucket list is…
Aruba! I want to see Flamingo Beach!
The song I play to get my workflow hustle on is…
Right now, Ed Sheeran – Shape of You