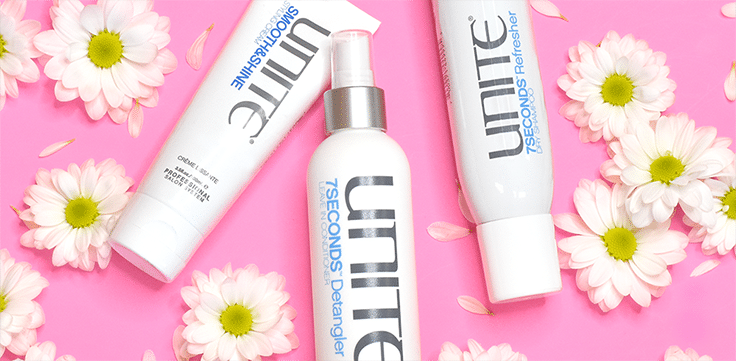 We all have our favorites, especially when it comes to hair. Those products that, if forgotten, you'd risk missing your flight for, you know? Sometimes, though, we're itching for something new. So we reached out to our Corporate Educators to get the inside scoop on the ride or die products that everyone should have in their rotation.
Savannah Fincher, Blo Austin 5th
https://www.instagram.com/p/BnIGipZB6e9/
Blow & Set: A lightweight product that I apply to the hair when wet. The product is then activated by heat to work like a hairspray from the inside out. Blow & Set helps to keep your hair cleaner longer while maintaining a beautiful healthy sheen; all while fighting humidity and making your style last longer.
7 Seconds Refresher: My life saver when it comes to stretching the life of my blow out, or when training my hair to stay cleaner longer. Use this preventative dry shampoo within 12-24 hours of washing your hair, this will allow the gentle clay based formula to absorb oils as you produce them while nurturing the scalp.
Weekender Shampoo: A Sulfate, Paraben, and Sodium Chloride free clarifying shampoo that removes environmental and product debris from the scalp without stripping essential natural oils. Fun fact! Using this shampoo prior to deep conditioning will provide added benefits as this shampoo can double as a protein treatment! This shampoo is intended to be used on a supplemental basis, like once a week or as your Weekender.
Becca Ashley, Blo Wicker Park + Blo St. Louis
https://www.instagram.com/p/BwNrtQPlyY3/
7 Seconds Glossing Spray: This is one of my all-time favorites. My hair is naturally frizzy so I am always needing a product I can use to touch my hair up every day. 7 Seconds Glossing is a light shine spray that protects your hair from the humidity. You can also use this product before using hot tools for smoothing as it also has a thermal protectant. I typically use this product every day to smooth down my hair before I start my day.
Texturiza Spray: I really love this one. This product is a matte finish texture spray, which can be used as a prep spray as well. It's great to prep for textured up-dos and textured waves. I use this on my guests with fine hair that need extra grit to their hair prior to waves or curls. You can also use this to add some volume to the hair.
Stephanie Rich, Blo Glen Cove Road
https://www.instagram.com/p/BknNt7yBAeY/
Boing Leave-In: Will have curls bouncing back to life! Perfect to use for after the shower to help with detangling or even to touch up your natural curls the next day, adding the perfect amount of moisture and shine to tame any frizz. I also like to use this product before a blow out to help with smoothing for anyone who has dry, over processed, frizzy or curly hair texture. Even someone who has straight but very dry hair can benefit from this product!
Expanda Dust: All of our staff and clients like to call this one magic dust! If you're looking for guaranteed all day volume this product is the one for you. It's easy to use and creates major volume! A little goes a long way. To use it you take small sections of hair, sprinkle a little bit on the root and lock it in with some back combing. I also like to use it to create a grip when I am braiding. It creates texture and hold, giving you the perfect boho effect!
Hope you guys enjoyed meeting our Educators and learning about some new products to add into your routine. All of these products are available for you to try in bar or take home!