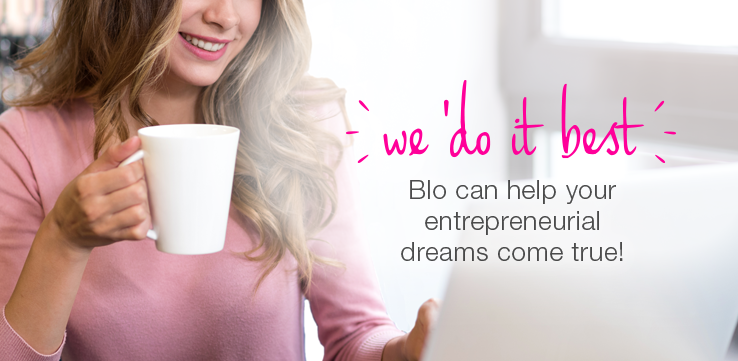 The best part of a new year is a chance for an all new you! And we're not being cliché, we swear! But, if you're looking for a new career, one where you will be your own boss and inspire women every day to look and feel their best, then we think Blo might just be the right fit for you!
Interested? Good! Keep reading.
Our franchise site has everything you want to know about opening a Blo, and we've answered some very important questions about what it takes to be a Blo owner, including:
1.) Is hair experience needed?
Nope. Our bloers have it covered. You just need a desire to bring joy to women through blow-dry hustle!
2.) Do I need business experience?
First-time business owners and seasoned entrepreneurs are both welcome. Blo Corporate provides support every step along the way, including training before and long after your doors open.
3.) How much does it cost to open a Blo?
Blo is a low-cost franchise opportunity and we can provide guidance if you wish to apply for a small business administration loan. For an approximate range of investment, click here.
4) Where can I open a Blo?
We have a broad availability across the US and Canada, including in markets where we are already located. Thinking of an International location? Let us know what you have in mind.
5) Do you provide training?
Yep. Our head office team is passionately dedicated to your success! Our staff is here to support you from the minute you sign on as a Franchise Partner, through your grand opening, and on a daily basis. Our comprehensive training and coaching programs cover the entire spectrum of your business: site selection & lease negotiation, recruiting & training, marketing & PR, and day-to-day operations. Of course, there is no additional charge for this ongoing assistance. We are always available with hands-on support and tools to help you.
Our mission is to expand the Blo franchise worldwide and paint every town pink! If you're interested in achieving your entrepreneurial dreams, then let's talk!
We look forward to partnering with you this year!
xo, Blo